Hi everyone! Father's Day is just around the corner… in a few days, actually. If you're a procrastinator like me, you probably still haven't gotten your dad the perfect gift. But it's okay! I've done some searching on the Internet and found 5 Father's Day gift ideas I'm sure he'll like.
5 Father's Day Gift Ideas
1) Funny T-Shirt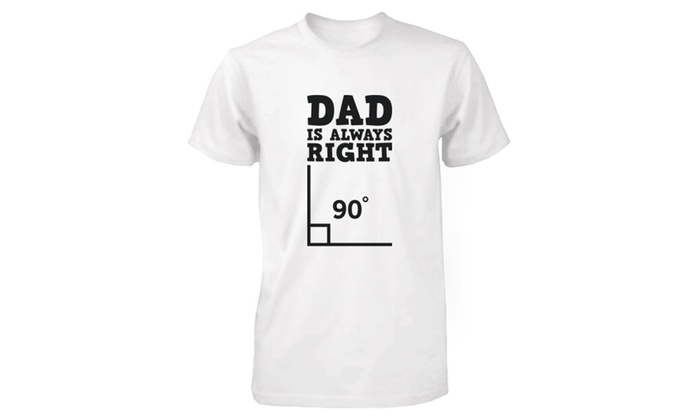 A few years ago, I got my dad a shirt from Old Navy that says "World's Greatest Dad." To this day, he still wears it. It's time to update that shirt and get him a new one. Like this one I found on Groupon, that says "Dad is always right" with a graphic of a right angle below it. I busted up laughing when I saw this shirt and I know my dad will also enjoy it because he's a math whiz. And who doesn't love dad jokes?!
2) Pint Glass
Another thing my dad loves is beer. And lots of it. But he needs something to drink it out of. So why not some really cool pint glasses to match his funny shirt? That way, he can enjoy some beer in a pint glass and funny t-shirt you got him for Father's Day.
3) Documentaries
Besides quirky dad jokes and delicious beer, my dad also really enjoys watching documentaries. Whether it's historical or scientific, my dad and I enjoy passing the time together by watching documentaries. He already has a few Vietnam War documentaries on top of Planet Earth, Blue Planet, and Human Planet. And Ancient Aliens is on Netflix. But we still haven't seen Cosmos: A Spacetime Odyssey and I'm sure he'll enjoy it.
4) Bluetooth Speaker
Along with his documentaries, my dad enjoys his music loud. I'm sure he'll enjoy having a bluetooth speaker around him when he's working in the garage or backyard.
5) Books
Another educational (and entertaining) thing my dad likes is informative books. Just like his documentaries, my dad likes to read how-to books. We have a two and a half year old Pomeranian that my dad is in love with. I'm sure a book filled with pictures of Pomeranians would keep him entertained. And maybe our dog could learn a few tricks from it.
There you have it! These are my 5 Father's Day gift ideas. I know they're tailored to my dad's own likes and interests but hopefully you find something that your dad likes! I'm sure my dad would enjoy receiving these gifts.
What other Father's Day gift ideas do you have? Let me know in the comments!